Garden Walk
Welcome to the Elmhurst Garden Walk and Faire – please join us on Sunday, July 12, 2020. The gardens are open from 10 am to 3 pm.
Tickets $15 in advance and $20 the day of the event.
Tickets can be purchased at these Elmhurst locations until 3 pm Saturday, July 11th:
Amlings Flowers 331 N. York,
Carousel Flower Shop 527 S. York,
Elmhurst Camera Photo Boutique 535 Spring Rd.,
enzee Boutique 140 N. York,
NuCara Pharmacy 101 W. Vallette,
The Uptown Shop 129 N. York,
or send your check and SASE to Elmhurst Garden Club  P.O. Box 383  Elmhurst, IL  60126. You can also purchase tickets the day of the walk in Wilder Park at the ticket booth on Cottage Hill. We accept cash or checks.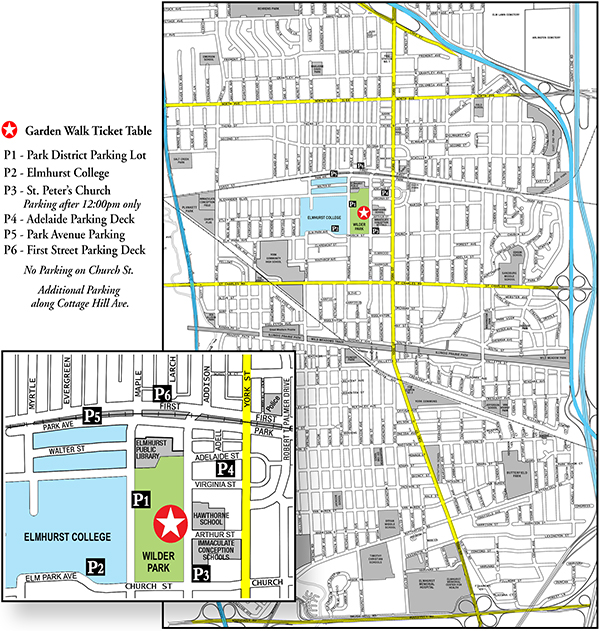 This year we have 5 glorious private and 2 public gardens. The Faire in Wilder Park  features vendors with unique garden accessories and one-of-a-kind pieces and a large selection of perennials.  The Faire is free and open to the public between 10 am and 4 pm.
Proceeds from the Garden Walk Benefit the Community:
Scholarships
Awarding annual scholarships to Illinois students in horticulture, landscape architecture, botany and environmental studies
Awarding scholarships to York Community High School students for experiential science programs
Donating scholarships to Elmhurst Park District children's summer camps
Public Spaces
Holiday decorating of Elmhurst Public Library
Maintaining the Herb Garden in Wilder Park
Contributing to horticultural development at Elmhurst College Arboretum
Maintain landscaping at Churchville Schoolhouse
Mentoring York High School Garden Club
Improving and maintaining campus appearance at Ray Graham Learning Center
Contributing to Elmhurst Cool Cities Coalition for public environmental programs
Become a Sponsor:
We invite you to become a sponsor of this community event. Space in our Garden Guide booklet can be reserved for your business.
Click here for Sponsor letter and information
Click here  for Sponsor Brochure
Faire Vendors:
Interested in displaying your wares at the Faire? Click here for the Boutique Vendor Response Form. The form is due by June 13. There is a $50.00 fee due with the application. The number of booths in the boutique will be limited in order to assure adequate room for vendors' displays and traffic between them. Applications for spaces will be filled in the order they are received.
Applications received by June 13 will be listed in the Garden Guide booklet.
Each reservation includes a 10′ x 12′ (approximately) space. Vendors must supply their own tables, chairs, and canopies, tent or tarps as desired. A vendor may reserve adjacent booth space(s) in which to display his/her own merchandise for an additional $30 per space.
We ask that you be ready for customers by 9:30 am. The Faire will end at 4 pm and we request that you plan to stay until then. We will send additional details about two weeks before the event.
We welcome your comments and questions. Please contact through the contact page on this web site.